Wanna purchase toys or books for your child? Well, if it is your very first time being a parent you may be wondering what to buy. In fact, every toy is necessary at different stages of your child's development. Moreover, out of these, some are quite effective when it comes to the growth and development of children. This way they will learn and enjoy at the same time. So, you will learn about a new invention that was born out of the combination of books and toys. Let me tell you what it is. It is non-other than the cloth book.
Moreover, remember that the world is changing at the speed of a snap of a finger. And just how advanced the world becomes, you have to keep following these advances to help your children to progress. Of course, you will see many new exciting toys out there which have not even existed when you were just a baby. So, here is why we cannot simply ignore the existence of the cloth book anymore. However, as the world of toys is quite wide and vast, you may be wondering what is in it for your child. Once you read this article you will know how amazing cloth books are for your precious babies. But before getting into that let us find out what are these in the first place.
What is Cloth Book?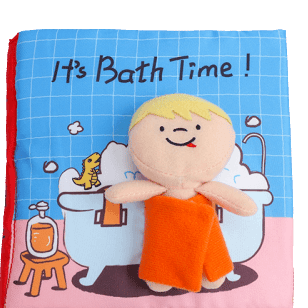 In general, a cloth book refers to a book consisting of a clothing fabric hardcover. Just like you loved the fairy tales and bedtime stories of your parents, you will love to do the same with your kid. In addition, reading is a skill that is essential for each kid which will come in handy for all academic purposes. Not to mention that all the enjoyment and pleasure that comes from reading a book is quite unforgettable.
Before getting into all that, you have to let your children become familiar with the concept of reading via books. Unlike the typical books that you will find in the local store, cloth books are made to facilitate a soft and gentle touch. So your tiny little ones will addicted to them in no time. Since now you know almost everything about cloth books, let us take a peak at the benefits of cloth books now.
Reasons why cloth book is the best choice for babies
Safe for all little ones
As the very first priority, each parent will be keen on checking the toys for the safety of the kids. Surely you have noticed then they will put anything and everything in their mouth in a matter of minutes. So, if the toy you purchase is prone to wear and tear, that won't be good for them. In terms of cloth books, there won' the no safety issues, as they are tear-proof and made with a soft but durable exterior that will remain intact for the next few years to come. In addition, the books are made after a rigorous testing process, so even if your little ones chew the books, nothing to worry about.
Easier to wash and clean
A sudden spilling of food or beverage is not new to parents when they are dealing with kids. It is quite difficult to wash and clean the stains of toys, let alone reuse them again. In fact, an ordinary book won't survive a coffin spill and will wrinkle up even if you dry the book. There won't be a cleaning hassle with any of the cloth books as they are made with fabric. the fabric in the book is quite easier to clean and you won't find any sign of stains at all. You can reuse them and the cloth book will look the same as the new one after a quick wash.
Aids with learning and development
Here comes the best part of the cloth book for your babies. Any parents would love to see their children go through a healthy learning and developmental process starting from their early childhood. So, these cloth books can give a little push for them to develop proper cognitive development. In fact, the book is filled with hidden textures and fabric creatures to let the children become little investigators on their own. Even though you may not aware, it will stimulate sensory skills and boost self-learning. In addition, contrary to other toys, cloth books do not make any sounds and help the children to concentrate while playing.
Give wings for entertainment
The sole purpose of toys including the cloth book is non-other than letting your toddlers enjoy playing to their heart's content. Moreover, the cloth books are visually more appealing with bright colors and pop-up images. Not to mention that some cloth books can make gentle sounds to make everything even more fun. And the soft gentle feel of the cloth makes the activity more fun while ensuring safe play. With just a simple glance you will see how your sweet little kids explode with pleasure, once they got the cloth books in their hands. As parents, you will realize, that there is nothing more happier than witnessing these innocent smiles on their faces.
Parting Thoughts!
After checking the above reasons, you will feel like it makes no sense to refrain from cloth books anymore. There is no need to do so as they are simply the best source of enjoyment for your children. In fact, they are ideal for both infants and babies. So, no need to hesitate with any doubt. Surely, your children will appreciate every single page of the cloth book while exploding with joy. However, remember that not all cloth books are made in a similar way. Thus, make sure to get high-quality cloth books from a reputed cloth book manufacturer all the time.