Fed up with the same old lunch bags given to your child? Why do not you purchase trendy neoprene lunch bags for a change? Well, there are a few reasons for this ongoing ruckus for choosing neoprene bags all over the world. Unlike the typical lunch bags, these neoprene lunch bags have several claims to make them the best in the industry. These are ideal for everyday use and as the neoprene material is naturally durable, they will last any harsh conditions. Well, other lunch bags would look worn out after a few uses and they won't look anything like new. On the contrary, neoprene will last long and you can use them for a couple of years looking as new. Now, let us cut to the chase and find out what is in it for you.
5 reasons to use neoprene lunch bags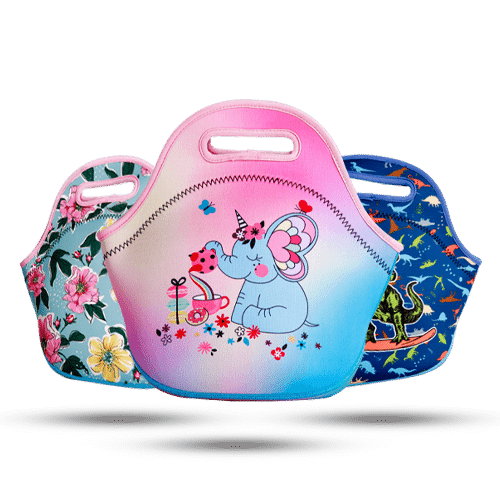 1. No concerns about accidental spillages
One of the hassles of dealing with lunch bags is none other than spilling the food on them. Especially, your kids may accidentally drop the food and spoil the looks of the lunch bag. Well, this is not a major concern at all for neoprene lunch bags. Unlike other materials, neoprene lunch bags are pretty much easier to wash. Plus, it does not require any additional requirements like handwashing. Thus, all, you have to do is shove them into your washing machine once your kids come home. No need to wait anymore, as now you have the perfect lunch bags for your kids all the time!
2. Fit for more things
Oftentimes, your child's backpack may already be filled with all the books and stuff. There may be not enough space to put the rest of the stuff in the backpack. Do not panic, as you have the neoprene lunch bags. Unlike other materials, neoprene is sort of more stretchable, so you can fit in several more things as you want. Thus, neoprene is the one-fit-for-all bag that you are looking for. This is more reassuring as giving a separate bag for a child is often not a good idea. Well, they tend to forget things quickly, which is quite normal.
3. Lightweight and soft
Unlike for adults, choosing a backpack or lunch bag can be quite a challenge. After all, you have to get lightweight and soft bags, that won't burden your little ones at all. There are certain fabric materials, that are not gentle and heavy which are not ideal for kids. Surely, they will cause huge temper tantrums against such bags. At the same time, on the contrary, kids will love lightweight and soft bags and enjoy using them. Thus, make sure to get these comfy neoprene lunch bags to make each day exciting for the kids.
4. Fun & loving designs
Just like how you rummage through the shop for searching for a design you like, the kids do the same. They expect to get the fun colored visuals on their lunch bags. It can be quite challenging to find the exact designs they want. No need to panic, as there's a way to get them into your possession. If you are ordering neoprene lunch bags online, you can even customize the designs and colors in accordance with your kids' preferences and add or remove additional pockets. So, there is no need to stick with the same old colors and designs anymore. Let your kids be the designer of their own lunch bags.
5. Long-lasting & durable
One of the primary concerns when getting any bag from a shop is how long it would last. Surely, you may have tried your luck with several other lunch bags which are made of different materials. Well, the outcome must have been a no-go, since you are here. You can invest in a neoprene lunch bag and see the difference they make. Plus, you won't have to replace them anytime sooner as they will last longer. In addition, neoprene is a sturdy and durable material that can withstand several harsh weather conditions. Moreover, they are water resistant, so you got nothing to worry about drying all belongings when it comes to rainy days.
Parting Thoughts!
As a parent, you may be thinking to give the best to your little ones. At the same time, finding the exact thing they prefer is another challenge. After realizing the above factors, you may have realized that neoprene is the best material for lunch bags. So, all you have left to do is to find a reliable neoprene bag manufacturer from the get-go. This will save you money and make your kids happy and excited at the same time. As there are a variety of brands available finding the best neoprene bag manufacturer can be a bit overwhelming at first. Rest assured, as we know just where to get your desired neoprene bags with quality and worth your money.
TOCHANG – The best place to buy all types of neoprene lunch bags & backpacks

TOCHANG is a leader in the bag manufacturing industry over the recent year that has been able to capture the market like a storm. And it is due to the backpacks we make within our company that we were able to achieve this amount of popularity around the world. Because we have customer globally and was able to establish ourselves as a leading global brand in wholesale backpack manufacturing. And that is why we were able to form strong bonds with other global brands to extend our wings into new ventures. But we would not be able to achieve this if we were not able to create a high-quality standard for each product we make. So contact us today if you are looking to buy some of the finest wholesale backpacks in bulk for your business.