As a parent teaching your kids the right way from an early age is always important. Because you can lay a good foundation early on to help them go through their education in their childhood. So to accomplish there are many ways you can try today. But one of the popular ways right now is by teaching kids soft books for babies. And if you are not heard of them before then this article will be helpful for you. Because in this article, you will be able to find out what these books are and how they help kids with their early education. So as a seller, you can help parents to improve their kids' education in your local markets. And also, find a new product to sell at your stores to earn you many profits. Therefore first, let us find out what these books exactly are?
What are soft books?
Books made with clothing materials are called soft books. And they are the best things to use in the education of toddlers from an early age. Therefore many parents around the world today seek these books to start teaching stuff for their toddlers and babies. Due to these facts, it has become a popular item among many new parents today in the market. And due to the material used in making these books, they are not your ordinary stationery. Because the ones who make soft for babies are mainly clothing manufacturers.
So if you want to have them in your stores, then you should find the right supplier. But let us find out further why there is a high demand for these books before. Therefore you can find out more reasons to buy these books if you are an owner of a business. It doesn't matter if you are running a stationery business or a clothing business to buy these books. Because you have soft books for babies in both businesses to sell for parents who are looking for them.
Advantages of soft books for babies and toddlers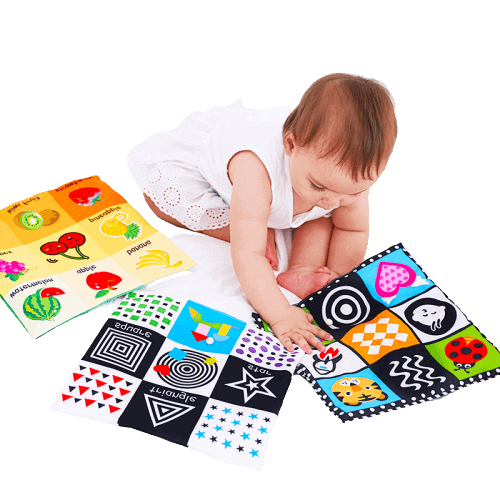 There are many advantages to having soft books for kids to teach them new stuff. But here, only the most important ones are discussed to learn more about how they help the children. So if you are a seller or a parent it will help you to understand more about them when you soft books for babies next time.
Soft books are very comfortable to use by children. Because there are no hard surfaces that can make them uncomfortable while they are learning. Most of the time, the traditional books we use to teach kids that are much older cannot be used on babies and toddlers. Because they prefer softer and smoother materials when they are really young. And that is why most of the things that we use on babies and toddlers are soft in nature. For example, kids prefer softer clothes to stiff and rough ones. Because they make them comfortable and calmer in their daily lives. And that is why you should provide the same comfortability with their books as well.
As you know even adults get papercuts when using traditional books. So you cannot let small kids around traditional books as the same can happen to them. And the injuries they get are much worse than the adults. Because their skin is more vulnerable to injury due to the smoothness of their skin. And no parent wants to see their children get hurt even if it's just a little scratch. But you do not have to worry if the children are using soft books for babies instead of traditional stationary books. Because they are much safer for children due to the cloth material they have. Therefore the children won't have any injuries when their learning with these soft books for babies.
It's really hard to keep books safe with young kids at any age. Because they tend to play with them or drop them everywhere and cause many damages to the books. You can't avoid this fact as a parent and have to buy new books every time this happens. But you won't have to face this problem when you are buying soft books for babies. Because they are much durable than the traditional books due to the cloth material that they come with. And also, these books are water-resistant a key factor when it comes to kids. Since they are messy and untidy in general they can drop foods, drinks and all kind of stuff on their books making unusable again. But this is not the case with a cloth or soft book as they withstand anything the kids can throw at them.
Soft books are much easier to read for kids than traditional books. Because they are much comfier than them and easier to handle for the children. Therefore children find it easier to read and obtain the knowledge inside these books. As a result, these books help the early development of kids much faster than the normal ones. And that is why if you are a parent you need to buy one for your kid as well. Because soft books for babies right now are one of the most important tools to have to help them improve their early development in education and even their senses.
As a parent, you know how harder it is to keep your children calm and collected for a while. Because they are kids their lives are full of activeness and mood changes in their childhoods, So to keep them calm and engaged for a while is a really hard thing to do and as a parent, you might need a break too sometimes. Well, in that case, soft books for babies will come in really handy when it comes to keeping kids calm and engaging for hours. Because they enjoy these books really well and can keep their attention toward it for a long period of time. Therefore giving the parents a little off from their hyperactive life for a while.
By going through these benefits you might have realized how important it is to have soft books for babies. So if you are interested in buying these books as a reseller to provide them to parents in your local market, then you have to find a good supplier. Well, you are in luck! Because one of the best suppliers of soft books is right here.
Tochangkids – The best books that your kids truly deserve!

Tochangkids brings many products of higher quality to the market over many years now. We have become one of the leading manufacturers of kids and infant products in the industry today. It is due to our long commitment towards quality and providing the best products to kids around the world to enjoy that we have come this far. So you won't regret buying soft books for babies from us. Because we guarantee that it will be the best purchase you have ever done for your business. With unique designs and stories embedded in them, they will sell like hotcakes on your local markets. Therefore contact us today to get more information about buying wholesale soft books from us.